My Palmetti adventure began with the discovery of a new material. To cut a long story short, when the brittle shed bark of the Areca Palm is soaked in a natural oil solution, the result is soft, flexible, and surprisingly leather-like material, hence the name. We did more tests to stabilize the material, ordered more boxes of bark from south India (they were probably wondering: what is this guy doing with this useless bark?!), created samples and designed products with them including bags, covers and slippers. The story doesn't end…with the end products.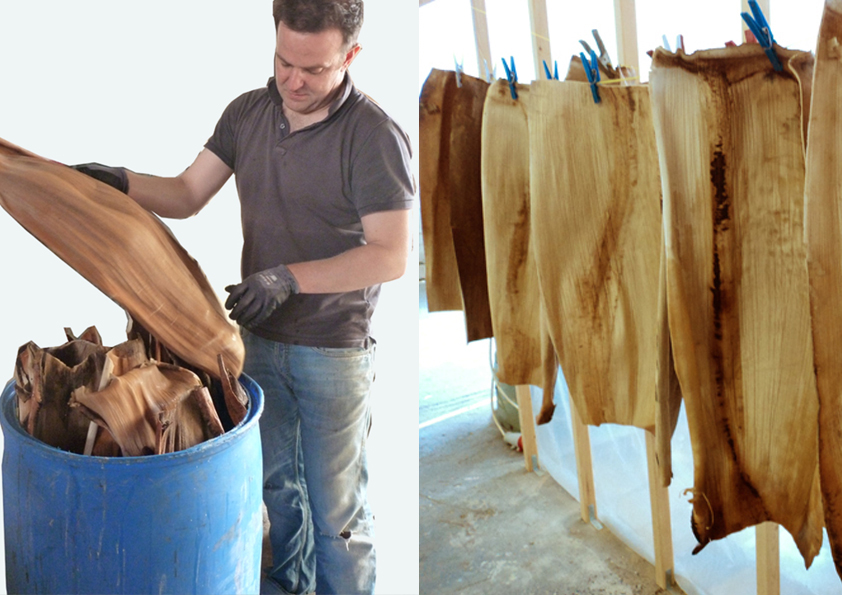 Environmental benefits
The material is an abundant natural wonder and we were curious to see if plant waste like this could be upgraded on a large scale. So I booked a ticket to tropical south India (where the tree is native) to find out more.
Here, we found plentiful amounts of beautiful bark that is normally left to decay, burned for firewood or sometimes used to make disposable plates. Meanwhile, seeing the cheap plastic flip-flops everywhere in India, we wondered if our slippers could provide a biodegradable alternative? To make a bigger impact, we realized that the biodegradable nature of our slippers potentially made them a serious replacement for the disposable plastic white hotel slippers. (Did you know that every year, 50 million are produced, worn once and then discarded in hotels all around the world?)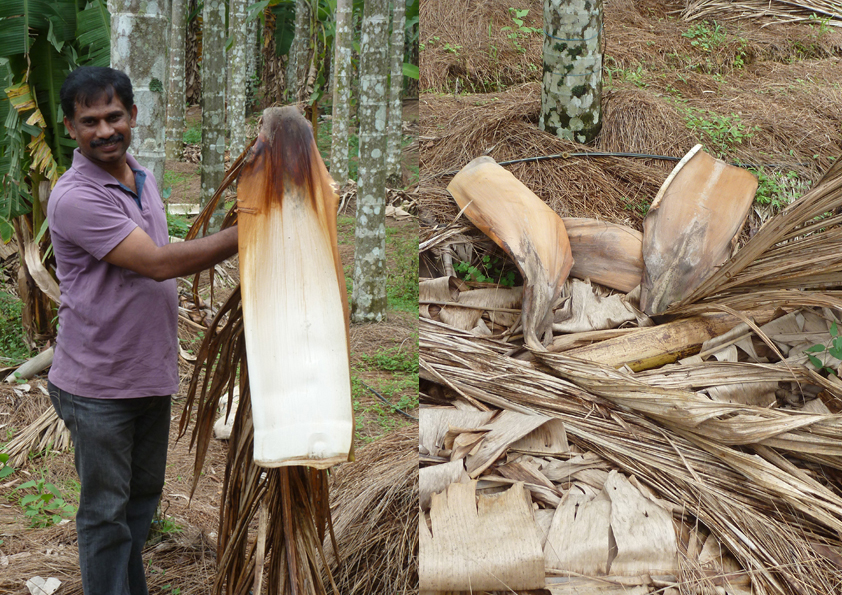 Socially Responsible
We began totally from scratch and set up the production unit right from the start in a socially responsible way. We believe in a production culture free of sweatshops, greed and inhumane working conditions. Together with the craftspeople and our local Indian partners (can you pls give me more input about your partners?), we set up a small producer-owned production unit in Gadag, Karnataka.
This is not a standard outsourcing factory operation in India. Making the cheapest product possible at the expense of the environment and people is simply not an option. With our unit, we provide training and employment for 30 local craftspeople, mostly women, who receive fair pay and work in comfortable conditions. It is set up to in a socially cohesive way and together the craftspeople collaborate into making this product a success: eventually they will become owners of the unit. Empowerment means the people receive training to become not just craft persons but also self-reliant small-scale entrepreneurs in their local communities. We are convinced that this is the right way to do business and with your help, we can keep growing in this direction.