1. Who are you and how did you start working on this project?
Studio Tjeerd Veenhoven is a product design studio with a love for inventing materials and production techniques. In their mind, being a designer is much more than just aesthetics or expressing trend: it is almost activism; design to change the world, even if just a little. Founder, Tjeerd Veenhoven, is the developer behind Palmleather and Palmetti. Looking for the source of the palm leaves (primary raw material) he visited India, the place on which he decided the production should take place. He knew that making the cheapest product possible, at the expense of the environment and the community was simply not an option. It became an ecologically and socially sustainable project from that very moment on.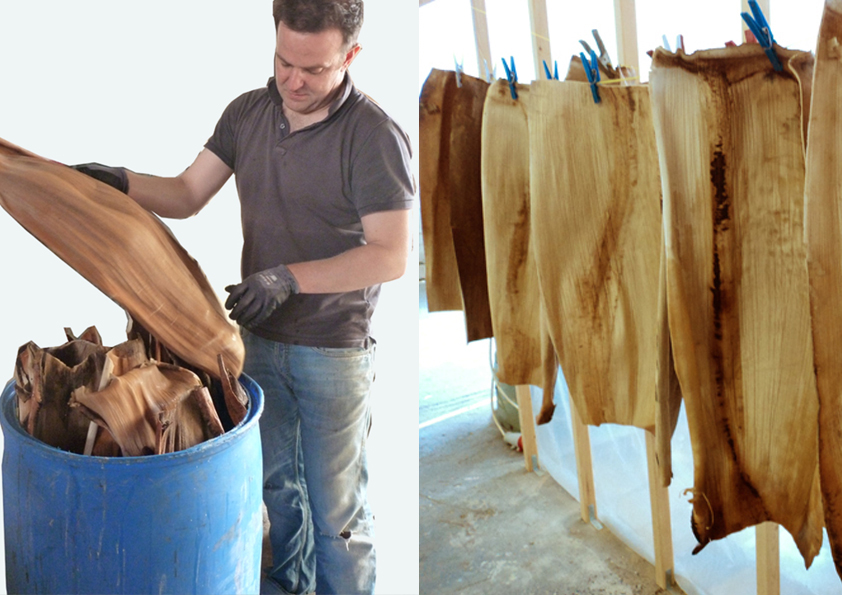 2. Where are you located? Do you work in other parts of the world? Our creative headquarters are located in Groningen, the Netherlands; and operate and work closely with the production units in India. We strive to copy this succesful model in other parts of the world where we could identify potential in the Base of Pyramid segment of the population.
3. What was your main interest in starting with this project? It all started with a pure aesthetical attraction to the dry palm leaves as a material. I enjoy working with them, pushing the envelop and testing their potential to the limit. My personal philosophy as a designer also makes me want to design and create sustainable and responsible alternatives for harmful or unnecessarily wasteful products.
4. Do you have experience in other similar projects? I am a product design specialist with 10 years of experience working mostly with natural fibers, replacing synthetic raw materials with biodegradable raw materials. However, my social entrepreneurship is something I am developing on the run. This is the first project with a considerable social component, which means that we learn something new everyday. New challenges arise and we strive to find new solutions everytime.
5. What are the funds collected going to be used for? All funds collected will be used to set up a second production unit in India. This unit will have the same characteristic and follow the same principles as the already sucessfully operating unit.
Come visit the design studio in Groningen if you are ever in the area! www.tjeerdveenhoven.com